Skip to Content
Celluma® For Pain Management
Celluma® For Pain Management in Maryland – FDA Approved Light Therapy
What is light therapy?
Light Emitting Diode (LED) phototherapy is the use of light energy on tissue to achieve therapeutic benefits.  The light energy improves cellular performance to promote healing, combat inflammation, increase circulation, decrease stiffness and spasms, accelerate tissue and joint repair, reduce wrinkles, improve the tone, texture, and clarity of the skin, and much more, like the use of Celluma for pain management.
What is the Celluma® LED light therapy device?
Developed by NASA and FDA-Approved
The Celluma® LED light therapy device from BioPhotas is approved to treat pain associated with muscle spasms, muscle and join pain, muscle tissue tension, muscle and joint stiffness, and diminished local circulation.  The Celluma® LED light therapy device is unlike any other low-level light therapy device in the market.  Developed based on NASA's research the Celluma® LED device simultaneously delivers blue, red, and near-infrared light energy wavelengths that are assimilated by the body's cells to trigger cellular processes to heal the body.  Not only is the Celluma® LED light therapy device FDA-approved to treat conditions to manage pain, it is also FDA-approved to treat inflammatory acne vulgaris also known as acne and visible signs of aging around the eyes also referred to as periorbital wrinkles, neck, décolleté, and the entire face.  It is OTC cleared — as us about how you can conveniently receive treatment in your home.
How does it repair tissues and help to control pain?
First, light or photons are applied to tissues via the Celluma® LED light therapy device.  Cells absorb the light and mitochondrial or cellular activity is stimulated – natural chemicals in the body are triggered, revitalizing cells and providing the energy needed to heal the body.  With continued use, this leads to repaired tissues and pain control.  This convenient, versatile therapy takes just 30 minutes and is recommended twice per week.  It is particularly effective when used in conjunction with regular massage.
Is Celluma® LED light therapy safe?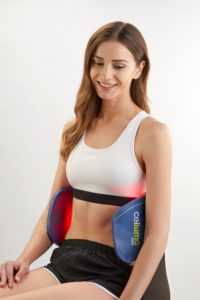 The Celluma® for pain management LED technology is a safe and affordable treatment with multiple modes for each clinical application.  It is easy to use and has been approved by the FDA for various indications such as arthritis, muscle spasms, tissue tension, joint and muscle stiffness and pain, reduced local circulatory activity, acne, and wrinkles.  The device is flexible for consistent light delivery.
In 1903, scientist Nils Finsen was awarded a Nobel Prize of Medicine for the use of light therapy, previously known as phototherapy.  In the 1960s, the therapeutic technology was used in the United States by veterinarians to treat animals.  Since that time, the topic has been extensively studied and clinically tested for its use to treat humans with chronic pain, arthritis, and related conditions, rehabilitate joint and tissue injuries, reduce the bacteria that causes acne, and prevent and reverse visible signs of aging.
What are the different colors and wavelengths used for?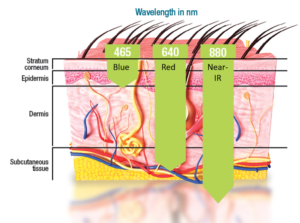 Celluma® has 345 LED that emit light energy different wavelengths, which are measured in nanometres.  Blue is 465nm, red is 640nm, and near-infrared is 880nm.  The different wavelengths stimulate different changes within the skin to optimize results.  Blue light kills the bacteria that causes acne and breakouts and addresses sagging skin and jowls with its skin tightening effects.  While red near infrared light stimulates cellular energy and can penetrate tissue up to one inch.  Red light therapy is used to treat the effects of aging and sun damage to the skin, rosacea, and other skin conditions.  With continued use, you will find your skin is restored, radiant, and revitalized.
How can I get started with light therapy?
You may schedule an appointment online or contact us to schedule an appointment.  Stop by Vitality Aesthetics, located in Therapeutic Kneads Wellness Center in Carroll County, Maryland.