Skip to Content
Chemical Peels & Dermaplaning In Sykesville, Eldersburg and Westminster
For a More Youthful Appearance
Vitality Aesthetics offers a wide range of rejuvenating treatments in Sykesville, MD.  In particular, clinical facials that include PCA SKIN® chemical peels with dermaplaning.  These chemical peels are safe for all types of skin, even sensitive skin.  Peels help improve the health of your skin look by removing impurities, encouraging cellular turnover, and revealing new cells through microscopic peeling, which often is not noticeable by the naked eye and requires a microscope or telescope to see it.  While chemical peels were popularized in the 1990s and then fell out of favor due to high-tech and expensive lasers, experts agree that these modern chemical peels deliver better results like reversing melasma, breakouts, fine lines, and wrinkles better than devices.  Over the years, there has been refinement of formulations of acids that are used and how these acids should be used in multiple applications.
Modern chemical peels do not cause as much visibly noticeable peeling but deliver nutrients to the skin to boost collagen and not only improve skin tone, texture, fine lines, and wrinkles but enhance the health and condition of the skin at a fraction of the cost.
Our PCA SKIN® chemical peels are progressive, and increase in intensity and depth based on your skin's needs.  We recommend receiving chemical peel treatments at regular intervals to achieve the best skin possible.
We understand that life is complicated, so we will work with you to accommodate your schedule so that you can achieve the healthy, glowing skin and the confidence that you deserve without having to struggle to find a time to fit your chemical peel sessions into your hectic life.  Contact us today to schedule your initial consultation and appointment.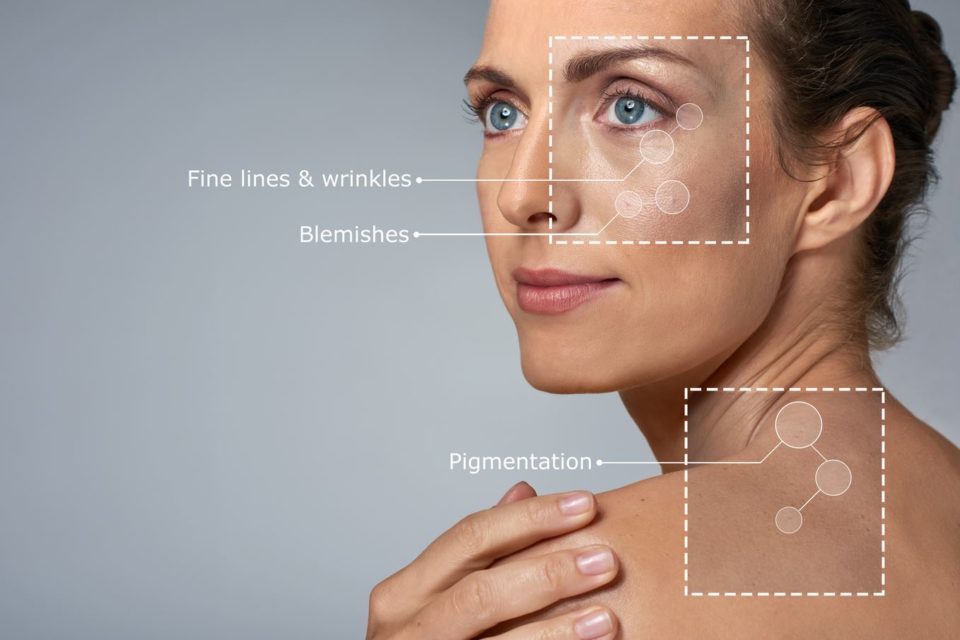 What Does a Chemical Peel Do?
A chemical peel is an integral part of any individually tailored, clinical skin care plan to improve fine lines and wrinkles, treat acne and rosacea, encourage cellular turnover, lighten dark spots due to sun damage, hormonal changes, acne scars, and other environmental damage.  At Vitality Aesthetics, we recommend combining chemical peels with dermaplaning treatments in order to boost the penetration and effectiveness of our medical-grade skin care products that are used during professional treatments and as part of your at-home skin care regimen.
Our clients see remarkable results in their skin after a series of progressive chemical peels.  An improvement in the texture and tone, health and hydration, size of pores, the amount of oil the skin produces, and wrinkles can be seen even after the first peel.  Your skin will look and feel revitalized.  Chemical peels are safe for any skin ethnicity, ancestry, and type.  The certified clinical estheticians at Vitality Aesthetics perform chemical peels under the direction of our Medical Director, dual-Board certified facial plastic and reconstructive surgeon specializing in the ears, nose, and throat, Dr. Ravi Dahiya.  Chemical peels do not require much time to perform, the treatment time is from 20 to 30 minutes.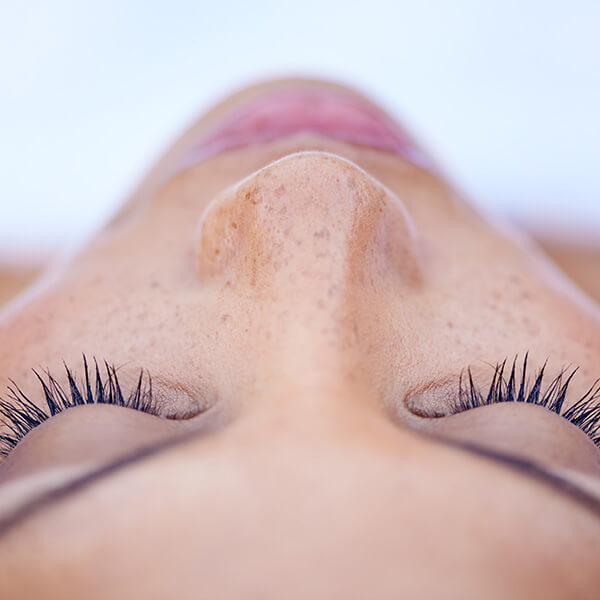 What Are Progressive Chemical Peels?
Progressive chemical peels vary based on an assessment of your skin by one of Vitality Aesthetics' skin care experts at the beginning of every appointment.  Typically, we recommend starting your treatment plan with a less aggressive, basic chemical peel that is gentle and increasing the strength of the chemical peels over time depending on your skin care goals and actual results.  With a basic chemical peel, your skin will be glowing and will peel on a microscopic level.  It will not be noticeable to the naked eye, but your cells will turnover, revealing more healthy and youthful looking skin.  As chemical peels progress, your skin may feel dry and tight and you may experience slight exfoliation.  You will be delighted by your rejuvenated skin with minimal downtime.  Advanced chemical peels can be particularly effective in treating acne scarring.  Our physician-grade 6% chemical peel targets those with skin that is more resilient and tolerable.  This peel delivers substantial rejuvenation and some may experience peeling and sheeting of the skin.  It contains antioxidants that defend the skin from damage caused by free radicals.  It is not only great for anti-aging, but it also addresses advanced hyperpigmentation.  Chemical peels may be added to other treatments and are recommended every three to four weeks.  Any chemical peel treatment should be reinforced by an at-home skin care program that includes physician-grade products – consistency is essential to maintain results.  Our nurse aestheticians will develop a skin care program specifically for you to achieve the results you are looking for.
Can Chemical Peels Be Used On Other Parts of the Body?
Chemical peels are not limited to your face.  For example, any part of the body that has damage from sun exposure or breakouts can be treated with a chemical peel.  The hands, chest, arms, back, neck, and décolleté are often neglected and can make a person appear much older.  A chemical peel is an affordable treatment to generate noticeable improvement in these areas and restore your self-confidence.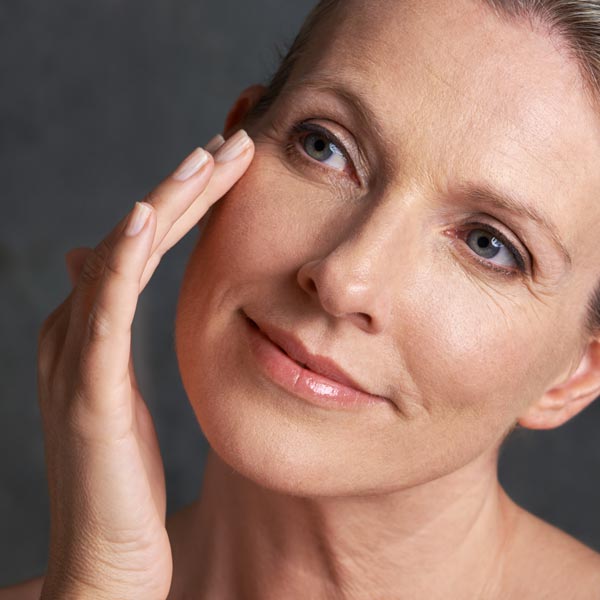 Why PCA SKIN® Chemical Peels?
PCA SKIN® chemical peels treat various skin concerns such as hyperpigmentation, acne, fine lines and wrinkles, and texture issues.  We have three different levels of chemical peels: basic, intermediate, and advanced.  Intermediate and advanced treatments include dermaplaning and a personalized blend of acids and multiple applications of those acids.  Vitality Aesthetics uses these treatments for the following:
Aging and sun damage – get rid of skin discolorations, redness, and brown spots associated with getting older and staying out in the sun unprotected;
Blemishes – acne, discolorations, light scars, and rosacea;
Oily skin – manage oily skin and balance dry patches;
Hyperpigmentation – eliminate dark spots caused by aging, dermatological conditions, or skin damage; and
Enlarged pores – casting off dull surface cells and remove impurities causing large and clogged pores that tend to make your skin look older.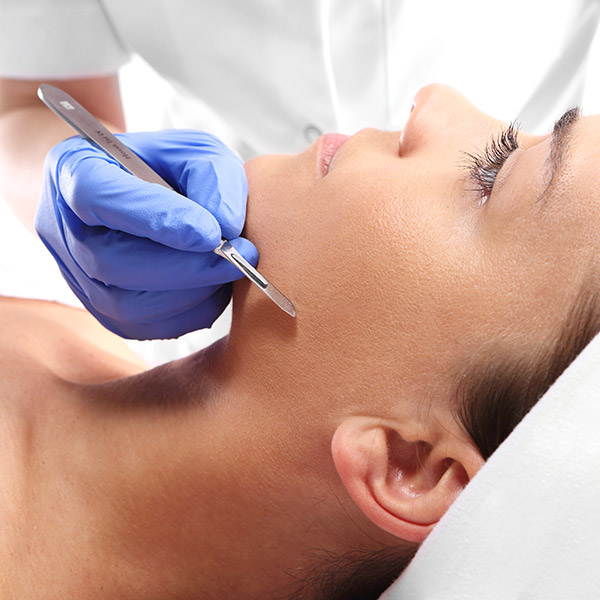 What is Dermaplaning?
Dermaplaning is a non-invasive, gentle procedure to manually exfoliate the skin using a blade.  Safe, effective, and with no downtime, the results are immediate.  It removes the top layers of skin, revealing fresh cells and preparing the skin to better absorb nutrient dense serums and improve the effectiveness of other treatments.  Vellus hair, also known as peach fuzz, will be removed but will not grow back thicker or darker despite misconceptions.  Hormonal shifts and some medications or illnesses cause female facial hair changes but dermaplaning does not.  Vellus hair can capture dirt, oil, and other impurities in the skin that cause breakouts, enlarge pores, and make the skin look unhealthy.  This is a very effective treatment in combination with chemical peels and the Plasma Pen skin tightening treatment to reverse pitted acne scarring as well as raised scarring and improves fine lines, wrinkles, and texture of the skin.  We recommend scheduling dermaplaning treatments every three weeks.  Dermaplaning is not recommended for those with active acne.
What Happens After a Chemical Peel?
We provide detailed, post-treatment instructions with your first chemical peel and a complimentary post-treatment kit with the purchase of a series of chemical peels.  Your skin may or may not visibly flake, feel dry or tight, or appear pink after receiving a chemical peel.  With your first treatment, you will notice your skin to start to appear healthier and after a series of treatments, your skin will look more youthful, tight, and glowing, taking years off your complexion.  We love PCA SKIN® chemical peels because they allow your body to heal itself with the help of products, at-home regimens, and our guidance, leading you to achieve radiant skin in a healthy and constructive way.
A flawless complexion is lying just beneath the surface of your skin!  Clinicians recommend this classic treatment as one of the quickest, easiest, and cost-effective ways to achieve it — there is minimal risk and your skin care products will work more effectively.