Skip to Content
Ultrasound LED Plumping Facial
Professional Strength Ultrasound Facial with LED
A professional strength, low frequency, ultrasound facial with light therapy by Vitality Aesthetics in Eldersburg, MD tightens skin, smooths wrinkles, and plumps the skin with incredible results on the face and neck.  (ultrasound) vibrating at 90,000 waves per second to activate skin metabolism and regenerate skin cells. \
Low frequency sound wave technology is proven and safe.  With the TimeMaster Pro device, sound waves vibrate at over 90,000 waves per second. oxygen to the cells increases and removes wastes in the pores for smoother skin. This incredible strength triggers cell metabolism and regeneration.   Most clients find the rhythm of the treatment to be soothing and cathartic.
Call us today to learn more about this noninvasive procedure and schedule your own.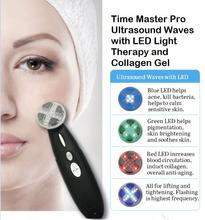 What does LED light therapy do?
Blue light therapy kills bacteria that causes acne and is calming to sensitive skin.  Green LED light addresses hyperpigmentation, brightens the skin, and calms sensitive skin.  Red light therapy improves circulation, promotes the production of collagen and elastin for firm and youthful skin.  Combining blue, green, and red light therapy is excellent of an overall lifting and tightening effect. The most powerful frequency is pulsing combined blue, green, and red light.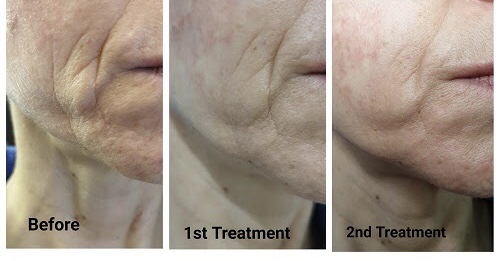 Visible Results
For years, these technologies have been used in the medical industry.  Ultrasound energy and LED light therapy series of treatments have become widely used as a non-invasive skin tightening treatment alternative to invasive surgery.  The ultrasound with LED facial quickly delivers younger looking skin, reverses breakouts, and alleviates painful skin contrition should such as rosacea, eczema and psoriasis.  Safe and effective, there is no downtime, pain, or discomfort. Contact Vitality Aesthetics today to schedule your ultrasound light therapy facial to reverse visible signs of aging and restore your youthful appearance.
What is an Ultrasound Light Therapy Facial?
Microcurrent is commonly referred to as facial toning or non-surgical face lifting because of the dramatic lifting effect it has on facial muscles and contours.  It simultaneously provides muscle toning and lymphatic draining to reeducate, firm, and lift the face with both short-term and long-term benefits.
Botox immobilizes the muscles, leading to atrophy.  Microcurrent is like exercising — lifting the muscles and plumping the face to prevent and reverse sagging skin, using your body's bioelectrical current.  Schedule a treatment to look your best for an event with immediate results and maintain the results with a series of treatments.