Skip to Content
Diamond Glow Microdermabrasion and Hydrafacial Treatments
DiamondGlow® in Sykesville, Eldersburg MD
The DiamondGlow treatment is unique – it is a microdermabrasion treatment that combines exfoliation with hydrafacial in the delivery of medical grade serums into the skin.  It exfoliates the skin and addresses clogged pores, revealing healthy, smooth, clear skin.   This combination provides an effective solution for many different types of skin conditions.
It is a painless procedure that doesn't require downtime so patients can immediately return to work and to their normal activities of daily living.

What is Microdermabrasion?
Microdermabrasion is a popular facial rejuvenation method that uses a handheld device with various sized diamond tips to customize your treatment specifically for your skin concerns and aesthetic goals.  It gently exfoliates the skin to remove impurities and dead cells.  It is a non-surgical, non-invasive procedure that helps eliminate acne and acne scars, improves the appearance of hyperpigmentation and age spots, and resurfaces the skin.  It also improves the appearance of visibility of large pores and fine lines and helps prevent wrinkles caused by sun damage and aging.  Typically, results are noticeable with just one treatment.  A series of treatments is recommended for optimal results.
What is DermalInfusion®?
DiamondGlow is also referred to as DermalInfusion – a non-invasive skincare treatment.  An FDA-approved technology patented by the brand DiamondGlow, which is part of Allergan Aesthetics' brands, is previously known as SilkPeel.  It works by exfoliating the top layer of your skin while removing dead skin cells and other debris.  You can earn Allē rewards just like you would with your Botox, Kybella, and Restylane treatments, among others.  DermalInfusion delivers controlled doses of custom serums deep into the skin, anywhere on the body such as the face, neck, décolletage/upper chest, and back.  It helps hydrate the skin while improving its overall appearance.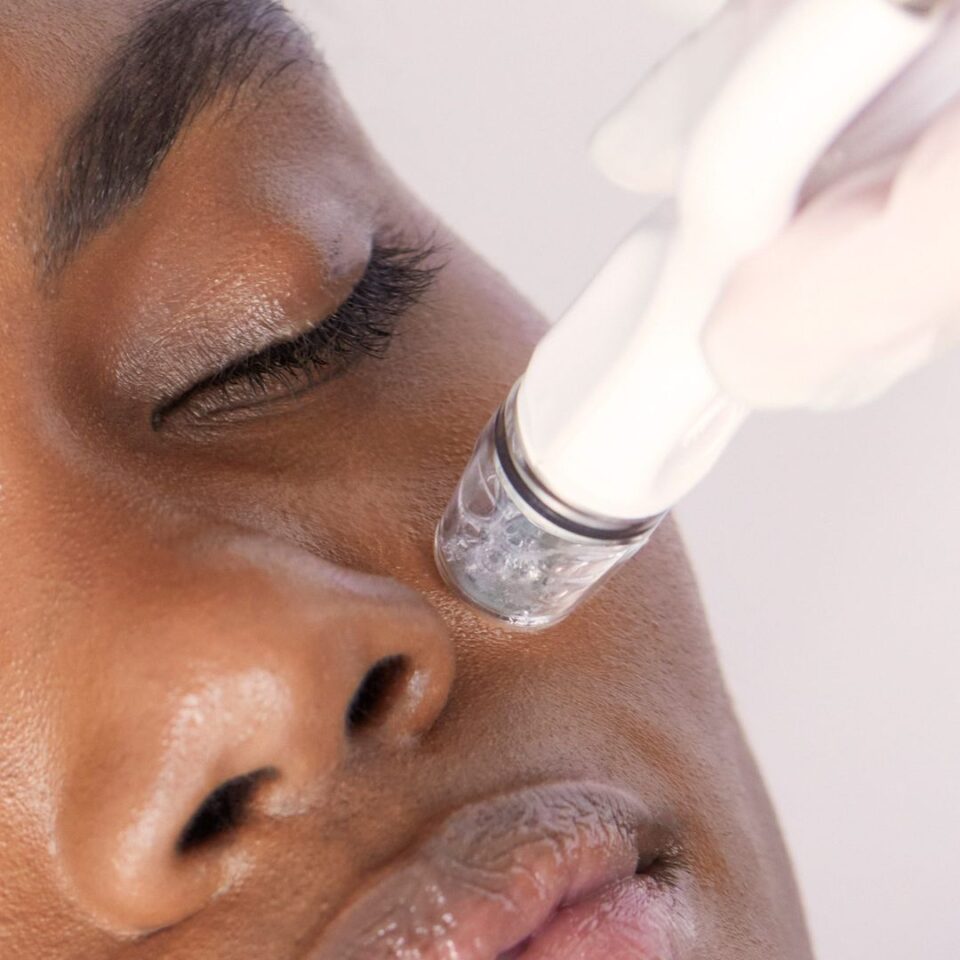 Who Is An Ideal Candidate For Microdermabrasion with DermalInfusion?
Regardless of gender, if you have mild concerns with your skin, microdermabrasion might be the best treatment for you.
Microdermabrasion is a procedure that is customized to each individual and most skin types respond well to this procedure, so as long as you are in good health and have realistic expectations you will be the best candidate.
Keep in mind that microdermabrasion is not intended for the treatment of active skin infections and certain skin diseases as well as deep scars and sagging skin.  Those who have recently taken the oral acne medication isotretinoin/accutane, those who are pregnant or lactating, and patients with uncontrolled diabetes should wait to experience this treatment. Patients with a personal or family history of keloids and those experiencing severe cold sores and skin infections are also recommended to avoid this treatment.
We will provide a customized plan depending on the severity of your skin concerns and your desired outcome. Some may need to undergo multiple microdermabrasion/hydrafacial sessions spaced two to three weeks apart while others only need periodic maintenance treatments.
What to Expect After Microdermabrasion Treatment?
Microdermabrasion usually requires thirty minutes to an hour to complete a session. Minor bruising is normal due to the suction process. Swelling, and redness fade within a few hours after the procedure. Some patients may experience skin sensitivity after treatment, using sunscreen with SPF 30 or higher is recommended.
To ensure safety, patients are recommended to clean their faces using mild toner right after the treatment to remove any residue. Apply a rich moisturizing cream to rehydrate the skin, and use it for the following days to prevent excessive peeling.
Avoid scratching, facial waxing, or using harsh chemicals (tanning spray) after the treatment. Stay out of the sun as much as possible and keep yourself hydrated.
Patients are advised to contact us immediately if any kind of adverse event is experienced.  Excessive and prolonged redness on the treated area might be a sign of infection, please contact us to monitor your progress.
DiamondGlow ™ is Better than HydraFacial
For years, HydraFacial was considered the treatment to revolutionize the skin until DiamondGlow ™, which far exceeds the benefits and outcomes.  HydraFacial just doesn't even compare to DiamondGlow ™.  We have decided to exclusively offer DiamondGlow ™ because we believe that it is truly the best.  While both treatments exfoliate the skin before professional serums are infused into the skin, HydraFacial exfoliation is a chemical process while DiamondGlow ™ is a manual process – the manual process is far more effective than the chemical process and better prepares the skin to receive medical-grade serums for better penetration.  This technology uses diamond tips and gives your experienced provider more control to customize the treatment specifically for your skin.
Actual DiamondGlow ™ patient. Results after 4 weeks following 2 treatments.
Microdermabrasion Treatments
A patented, non-invasive, 3-in-1 dermatological treatment that simultaneously exfoliates, extracts, and infuses skin with condition-specific serums for an all-inclusive treatment in one step.
It is the first and only critically-timed, exfoliation-to-serum treatment technology with optimal-depth delivery for immediate and long-lasting results on all skin types- with NO downtime!
This treatment is now included with Allē rewards, formerly known as Brilliant Distinctions.
We love giving our patients a glowing complexion. These are actual DiamondGlow ™ patients' results after just a single treatment. There are a variety of pro-infusion serums used:
Pore clarifying;
Hydration;
Acne/breakouts;
Brightening for dark spots/hyperpigmentation; and
Powerful antioxidants.
We can't wait to give you radiant skin with @DiamondGlow.  Let us know if you have questions about this unparalleled facial treatment.
Stressing over clogged pores?  With DiamondGlow ™ 3X1 ™ Technology, we're able to deep clean your pores and infuse the highest concentration of medical-grade serums into the skin when it's most receptive.
If acne and enlarged pores are your biggest skin concern, we recommend asking if the pore clarifying pro-infusion serum is right for you!
Medical-grade serums are applied to the skin to cleanse, beautify, promote attractiveness, and enhance appearances.  These products are not intended to diagnose, treat, cure, or prevent any disease or condition.
Achieve the Best Version of Yourself
DiamondGlow ™ is corrective and is more intense than HydraFacial and will make noticeable changes in the skin for health and vitality.  It can help eliminate acne, rosacea, and other skin concerns that make us feel insecure,  Yet, it is gentle and there is no downtime required.  Why not choose a more powerful treatment that is comparable in price?  
If you have enjoyed a HydraFacial, you will love DiamondGlow ™.  If not, don't bother with the HydraFacial and seek the Diamond Difference.  Contact us to schedule an appointment – we will work around the busiest of schedules so you can fit the DiamondGlow ™ into your regular corrective skin care routine.