Skip to Content
SkinPen® Cosmetic & Medical Microneedling
Medical Microneedling in Sykesville Eldersburg Maryland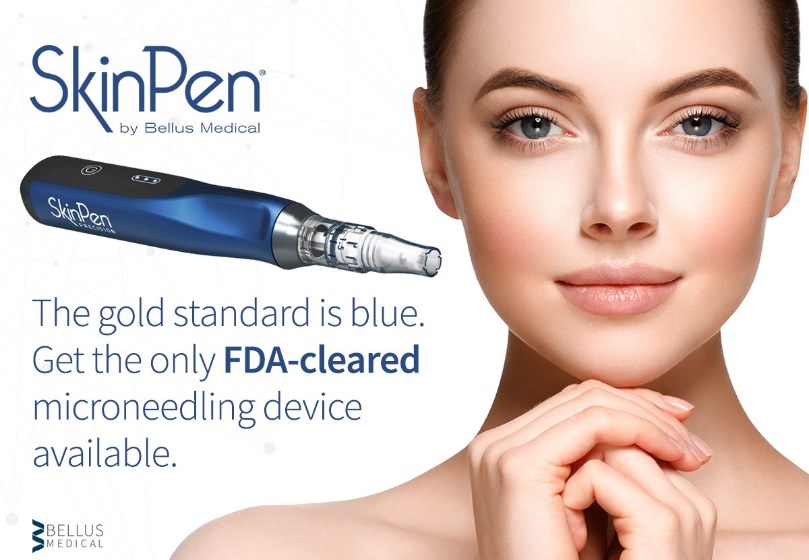 Dramatically Reduce the Signs of Aging
Maryland residients trust Vitality Aesthetics to dramatically reduce the signs of aging with SkinPen® cosmetic and medical microneedling.  SkinPen® is the only FDA approved microneedling device that safely and effectively treats wrinkles, acne scars, stretch marks, hyperpigmentation, enlarged pores, and sagging skin and even improves the thickness of the skin. Look and feel younger with this alternative to invasive treatments to reduce fine lines, wrinkles, scars, stretch marks, and dark spots.  SkinPen® cosmetic and medical microneedling are more effective than the Dermapen because it is not FDA approved and dermarolling at home because the micropen is motorized and has longer needles to penetrate and stimulate the dermis at a deeper level with excellent results.   Microneedling with the SkinPen® micropen is not limited to the face, it can be used anywhere on the body to improve the tone and texture of the skin and to reduce stretch marks.  With the use of Hyaluronic Acid and medical-grade serums, the micropen delivers these active ingredients into the skin to further enhance your facial results.  We will customize a microneedling program for you that fits into your lifestyle and delivers the results that you want.
What Is Cosmetic and Medical Microneedling?
Using an innovative, motorized micropen with fine needles, the skin is punctured to create a controlled injury to the skin.  This triggers the body's natural healing response to generate collagen and elastin in order to rejuvenate the skin.  Also referred to as Collagen Induction Therapy (CIT), this treatment delivers immediate plumping and is extremely effective to treat acne scars and can even reduce cellulite.  Although some have attempted to self-treat at home, we recommend an experienced skin care professional at Vitality Aesthetics microneedle the desired areas to reduce risk of injury to the skin, compliment the treatment with medical-grade topical serums in the studio, and incorporate these active ingredients in your home skin care regimen as well.  The number of treatments will be determined by our medical professionals during your initial consultation and will depend on the condition of your skin and your desired outcome.  You may receive a complimentary consultation and often times your first treatment on the same day.  On average, improvements are apparent after a series of three treatments and each microneedling treatment can be safely performed every four weeks.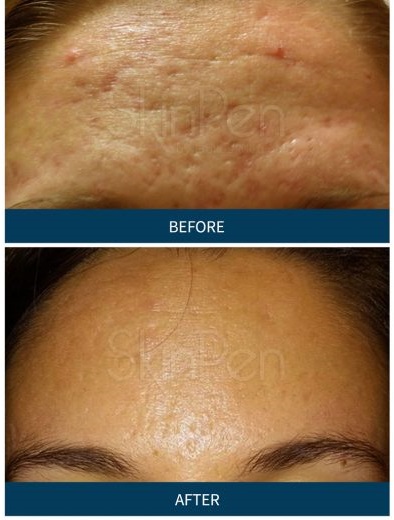 Reduce Acne Scars, Fine Lines, and Wrinkles with Microneedling
Renew your skin to healthy, glowing condition with a series of microneedling treatments.  You will be delighted by the results — refreshed, rejuvenated skin that radiates.  Microneedling using the SkinPen® by Bellus Medical, now known as Crown Aesthetics, is minimally invasive and treats skin conditions such as uneven skin texture, smile lines, crow's feet, and other fine lines, scars as a result of acne, surgery, chicken pox, damage as a result of sun exposure, hyperpigmentation, and stretch marks.  The depth of the SkinPen® needles may be adjusted from .25mm to 2.5mm.  Cosmetic microneedling uses needles less than .5 mm long to fractionally increase the body's natural healing processes of the outer layers of the skin.  A lighter topical analgesic is used to numb the skin with cosmetic microneedling.  Because medical microneedling uses longer needles ranging from .5 mm to 2.5 mm, a stronger, medical-grade numbing cream is used and recovery time is longer.  After your cosmetic or medical microneedling treatment, your skin may be slightly red and sensitive and you may notice mild swelling for the next two to three days.  With medical microneedling, you may notice pinpoint bleeding.  These spots will disappear in approximately 24 to 48 hours.  Do not use a chemical peel, put on makeup or spend time in the sun for several days after your treatment. This allows your skin to heal completely.
At Vitality Aesthetics, experienced aesthetic nurses perform cosmetic and medical microneedling procedures with a micropen with oversight from our Medical Director.  We recommend synergistically combining microneedling with chemical peels, wrinkle relaxers, dermal fillers, and LED light therapy for a complete program to maintain and restore your youthful appearance.  Contact us to schedule a consultation.
Achieve the Best Version of Yourself