Skip to Content
TCA Bio-Stimulating and Bio-Revitalizing "No Peel" Peel In Sykesville, Eldersburg and Westminster
All of the Pros with No Downtime
Vitality Aesthetics is a premier provider of Bio-Stimulating PRX-T33® and BioRePeelCl3 "No Peel" Facial Peel treatment.  This is the most innovative treatment we have seen to date that repairs damaged skin tissues and regenerates the skin.  Typically, bio-simulating treatments include injecting hyaluronic acid into the skin, which is very effective.  However, for those interested in bio-stimulators without the use of injection and those interested in receiving the benefits of a chemical peel but do not want the skin to exfoliate, the Bio-Revitalizing PRX-T33® and BioRePeelCl3 "No Peel" Peel treatments are ideal.  These advanced, biphasic bios-stimulating treatments contain 33-50% TCA and synergistic and proprietary blends of ingredients to deeply penetrate the dermis without the peeling effects of a chemical peel and do not cause photosensitivity — sensitivity to UV rays.
PRX-T33® and BioRePeelCl3 are composed of a scientifically proven blend of 33-50% TCA, hydrogen peroxide, kojic acid, and other revitalizing ingredients.
TCA stands for Trichloroacetic Acid, which has been used for decades, to reduce wrinkles, scars, and acne.  Until now, using TCA at higher does introduced longer periods of recovery and potential complications such as hyperpigmentation, hypopigmentation, peeling, and discomfort.  TCA remodels and rejuvenates skin cells in the deep layers of the dermis.  By combining TCA with hydrogen peroxide and kojic acid, you will receive the powerful benefits of a high strength TCA peel without the risks of side effects and peeling.  While TCA deeply penetrates the skin, the addition of hydrogen peroxide and kojic acid leave the upper layers of the skin intact.  Hydrogen peroxide includes enzymes that accelerate healing, remodel cells, and ease irritation and inflammation and kojic acid promotes skin brightening, prevents hyperpigmentation, and is also an anti-inflammatory agent.  Kojic acid contains enzymes that block the production of melanin, which prevents discoloration and dark spots.  These components in the right proportions are synergistically combined to eliminate side effects experienced with some chemical peels.  It is a powerful anti-bacterial and anti-fungal, which combats blemishes, acne, and skin irritation.

PRX-T33® and BioRePeelCl3 are not Limited to the Face and Neck
If you are seeking to firm and tighten loose and sagging skin on  your face, neck, and décolleté, improve hyperpigmentation, melasma, and age spots, improve the texture of your skin, and reduce acne scars, sun damage, and stretch marks, Bio-Revitalizing PRX-T33® and BioRePeelCl3 "No Peel" Peels may be right for you.  They are not limited to the face and neck, are particularly effective in reducing the appearance of stretch marks as a result of pregnancy and weight loss, and may be used on the hands to reverse the signs of aging or anywhere on the body with visible scarring.  They can also correct skin conditions such as overproduction of oil by the sebaceous glands and inflammation.  They are safe for men and women of all ages and skin types with impressive results without the risk and downtime of other procedures.  The procedure should be postponed for women who are pregnant or breastfeeding and those with open wounds or cold sores.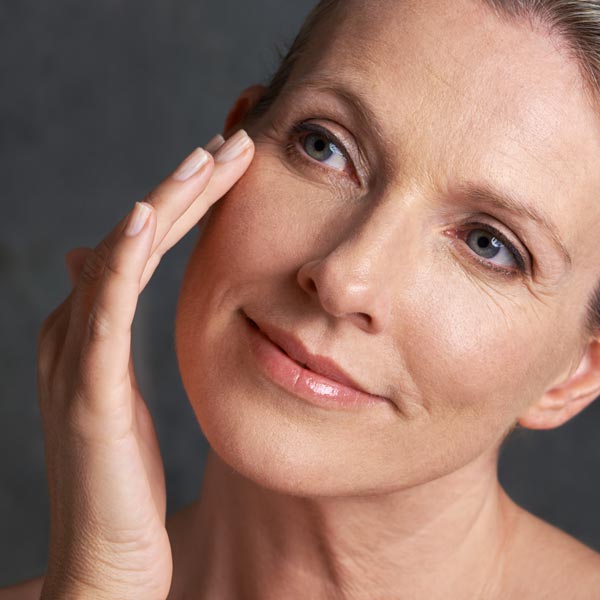 Patients Find it Relaxing
Bio-Revitalizing RPX-T33® and BioRePeelCl3 "No Peel" Peels are a series of five treatments that are performed one week apart.  PRX-T33® and BioRePeelCl3 will easily integrate into your busy lifestyle because the treatment is needleless and painless – there is no risk of bruising nor significant peeling of the skin therefore there will be no impact to your professional nor your personal life.  Each procedure can be completed in fewer than 30 minutes and you can immediately return to your daily routine.  Most patients find it relaxing.  Although maximum benefits will be seen once the series of treatments is completed, you will immediately feel tighter, brighter skin.  This all-season no peel peel does not cause photosensitivity therefore these treatments are safe to perform any time of the year, even during summer months without the risk of hyperpigmentation.
PRX-T33® and BioRePeelCl3 For Greater Circulation, Production of Collagen & Stimulation of Fibroblast Activity
After each treatment, growth factors will be applied to accelerate healing and the aesthetic nurses at Vitality Aesthetics always apply SPF because your skin will be more susceptible to the elements post-treatment.  At home post-treatment skin care will be provided to you and free with the series of treatments.
Patients have reported an overall rejuvenation of the skin, detoxification of impurities, improvement of inflammation and size of pores, greater circulation, production of collagen, and stimulation of fibroblast growth, lightening of dark spots, decreased acne due to its microbial effects, and even the reduction of puffiness and subcutaneous fat.
Even Better Together
We recommend incorporating Bio-Revitalizing PRX-T33® and BioRePeelCl3″No Peel" Peels with other rejuvenating aesthetic treatments such as cosmetic and medical microneedling, Dysport® and Xeomin® wrinkle relaxer injections, Restylane® and Radiesse® dermal and lip fillers, and Plasma Pen Skin Tightening to enhance your results.  Serving the Baltimore-Washington metropolitan area, contact Vitality Aesthetics at 443.538.3953 to schedule your appointment or schedule your appointment online using our client portal.
Achieve the Best Version of Yourself