Skip to Content
Is Plasma Pen Skin Tightening In MD Right For Me?
What is Plasma Pen Skin Tightening and Is it Right For You?
The Plasma Pen Skin Tightening treatment is a no contact procedure using an FDA-approved device that delivers results that many believe are commensurate with invasive cosmetic facelift, necklift, and bodylift surgeries.  While there are no incisions, stitches, or general anesthetics involved so the risks and downtime are minimal, but the results are comparable to much more expensive surgeries for facial and body rejuvenation.
How does the Plasma Pen device work?
The Plasma Concepts Plasma Pen never touches the skin.  It uses a controlled electric charge to emit plasma gas that vaporizes excess skin by way of a tiny dot on the treatment area.  The placement of the dots will be according to the treatment area mapping that is conducted during the complimentary consultation, prior to the treatment.  This charge stimulates fibroblast cellular activity to regenerate cells and to increase collagen and elastin production.  The skin will start to immediately tighten and noticeable rejuvenation will continue for the next twelve weeks.
How long does the procedure take?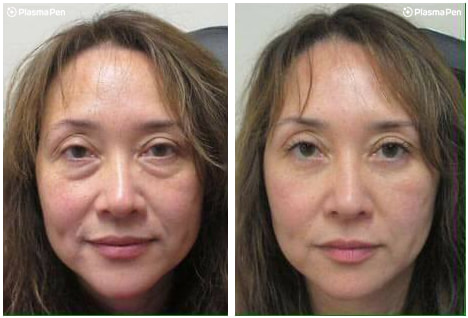 Depending on the treatment area, the procedure will take from 60 to 90 minutes.  Upon your arrival, prescription grade topical numbing cream will be applied along with an occlusion to strengthen the anesthetic cream's effect.  You will find this will minimize any discomfort.  Once the numbing cream has taken effect, the procedure will begin and will be performed in two passes, with a second yet different numbing cream applied after the first pass.  If treating stretch marks on the body, the procedure may take up to 2 hours, depending on the size of the target area for treatment.
Is Plasma Pen Skin Tightening a painful procedure?
The pain associated with the Plasma Pen Skin Tightening treatment is minimal.  With the use of physician-grade topical anesthetics, you will feel little to no discomfort.  The eyelids are a more sensitive potential treatment area and our clients find they are able to relax and rest during the procedure.  During the recovery period following the treatment, there is no pain.  Immediately after the procedure, the treated skin will be pink, and some may notice slight swelling around the eyes if the upper and lower eyelids were treated.  Small dots, which are tiny scabs, will form.  These should remain intact and kept dry until they naturally fall off.  You will instantly see and feel tightening after the treatment that will continue to improve as the skin heals over the next twelve weeks.
What can be treated with the Plasma Pen?
Any area of the face, neck, and body with sagging skin
Hooded eyes, loose skin above the eyes, and bags and puffiness below the eyes that would otherwise require blepharoplasty [eyelift] surgery
Bags under the eyes that would otherwise require blepharoplasty surgery
Areas with excess skin on the face, neck, and body that may be due to aging, environmental factors, and weight loss
Nasolabial folds [smile lines that extend from the nose to the corner of the mouth]
Marionette lines [vertical lines at the corners of the mouth]
Furrows and crow's feet
Forehead lines that would otherwise require correction by browlift surgery
Sagging jowls that become more prominent with aging
Sagging neck and décolleté
Lipstick/smoker's lines that form around the mouth from repeated movement
Stretchmarks as a result of pregnancy or weight gain
Milia [white bumps with dead cells that are stuck beneath the epidermis]
Spider veins
Acne and other scarring
Is the Fibroblast Skin Tightening treatment safe?
The Fibroblast Skin Tightening treatment is FDA-approved, noninvasive, and safe.  It stimulates the body's natural regenerative processes to reveal youthful looking skin.  It is extremely effective without the risks associated with traditional facelift, necklift, and bodylift cosmetic and plastic surgery.  Our clients resume normal activities with marginal social downtime. This is the perfect time to have the Fibroblast Skin Tightening procedure while many people are still virtually working from home.
How many treatments are needed and how long will the results last?
The number of treatments needed to achieve your desired outcome depends on each individual.  For the most part, clients feel like their goals are achieved with a single treatment.  We recommend combining the Plasma Pen

Skin Tightening procedure with other face, neck, and body rejuvenation such as Dysport® wrinkle relaxing injections, Restylane® lip and dermal filler, chemical peels, microcurrent facials, and the incredible Bio-Revitalizing PRX-T33 "no peel peel" series of treatments.  Given the Plasma Pen Skin Tightening procedure is safe and affordable with minimal social downtime, a second treatment may be performed twelve weeks after the initial treatment.  Plasma Pen Skin Tightening results are permanent however the face, neck, and body will continue to age.  Positive effects typically last anywhere from two to four years.
When should someone not pursue this treatment?
This treatment may not be appropriate for those who are pregnant or breastfeeding, have metal appliances in the treatment area, pacemakers, serious cardiovascular conditions, epilepsy, diabetes, cancer, or any autoimmune disorder or condition that prevents the individual to heal properly.  You will complete a comprehensive health questionnaire prior to determining if the treatment is right for you.
What do I need to do before the Fibroblast Skin Tightening treatment?
Your aesthetic nurse will review detailed pre-treatment instructions with you.  Generally, you should not undergo this treatment if you are not feeling well, your have a rash or your skin is inflamed, your skin is sunburned,
Contact lenses, false eyelashes, and lash extensions must be removed.  Four weeks prior to the procedure, discontinue the use skin care products containing Retin-A, alpha hydroxy acids, and other acids such as lactic, glycolic, and salicylic.
What do I need to do after the Plasma Pen Skin Tightening procedure?
Your aesthetic nurse will review detailed post-procedure instructions with you.  Generally, you should not allow the treated areas to become moist or wet until the scabs begin to heal.  Do not force the scabs to fall off – you should allow them to heal and naturally fall off.  Avoid wearing makeup until the scabs have healed.  As always, minimize exposure to UV rays and wear a broad-spectrum SPF every day.  Swelling, especially around the eye area, is expected.  This will subside starting after day 2 and will improve throughout the day as gravity has a positive effect.  You may start to reintroduce exfoliant skin care products, Retin-A, and those with the acids that were mentioned after eight roughly eight weeks.