Skip to Content
Maryland SkinPen® Microneedling w/Micropen
Cosmetic and medical microneedling is minimally invasive procedure that improves the appearance of aging skin with fine lines around the eyes, mouth, neck, and décolleté, rough skin texture, skin laxity, scars from acne, trauma, chicken pox, skin damage from the sun, lifestyle, and other environmental factors, discoloration, hyperpigmentation, and stretch marks from pregnancy or changes in weight.  Our Maryland SkinPen® cosmetic and medical microneedling treatment is not limited to the face.  It can be performed on any part of the body.
The SkinPen® micropen is the only FDA approved device for cosmetic and medical microneedling.  It is superior to the Dermapen because the Dermapen is not FDA approved and at-home dermarolling, which is less penetrating, imprecise, and potentially unsafe.  Many refer to this treatment as dermarolling but cosmetic and medical microneedling penetrates more deeply with professional results that cannot safely be achieved with an over the counter, at-home dermaroller.  Hundreds of precise, vertical, microscopic perforations are made to the epidermis that stimulate the body to generate collagen and elastin and to improve these foundational elements to healthy, youthful looking skin that radiates.  The body will remodel the skin to reveal new, healthier skin.
This procedure is also referred to as Collagen Induction Therapy because the controlled causes the body to repair and generate new skin through the healing process.  Our Maryland SkinPen® device is safer than other professional micropens and over the counter dermarollers because its narrow tip allows our medical professionals to easily reach otherwise difficult to reach areas of the face.  The tips are disposable – a new tip is used for each patient.  A new BioSheath is used for each patient to prevent cross-contamination and the device is disinfected in between each treatment.
While many people experience visible results after one treatment, typically a series of treatments is recommended depending on each patient's skin condition and desired outcome.  The SkinPen® causes cellular activity and engages the immune system to produce new skin.  At Vitality Aesthetics, many of our patients love the SkinPen® microneedling treatment so much, they request a series of treatments twice per year.  Treatments may be performed every four weeks and may continue for years to enhance the quality of skin as the skin ages.
Cosmetic and medical microneedling are safe for all skin types and Fitzpatrick scale skin colors and is appropriate for men and women of all ages, and even teenagers with acne scars.  Anyone seeking to reduce the visible signs of aging, wrinkles, skin laxity, rough texture, scars, is a viable candidate for this procedure.  That's the advantage of our Maryland SkinPen® procedures — they are safe and effective for everyone seeking to improve the quality and appearance of their skin.  Cosmetic microneedling is less penetrating than medical microneedling.  The registered nurses at Vitality Aesthetics will determine the penetration required according to your skin's condition and treatment goals.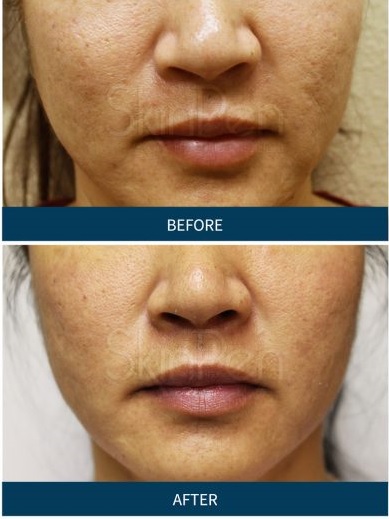 Prior to your treatment, one of our registered nurses will understand your particular concerns and will devise a treatment roadmap especially for you.  A topical anesthetic cream will be applied to minimize any discomfort.  The procedure will be performed with either hyaluronic acid or your own growth factors, depending on your desired treatment.  Your medical skin care expert will use the device to treat the designated treatment areas according to the planned treatment map.  After your treatment, your skin may be a bit red and sensitive, which may continue for a couple of days.  Social downtime is minimal, and you may return to normal activities after the treatment.  Our expert skin consultants will advise you on your post-treatment skin care regimen to promote your skin's recovery.  You should always use a broad-spectrum SPF, especially post-treatment.  We recommend refraining from wearing makeup for approximately 24 hours to allow the immune system to start to heal with fresh oxygen reaching the skin and engaging in strenuous exercise with profuse sweating for one to two days.
The skin will undergo three stages of healing.  First, the body's natural inflammation process will be triggered, and the immune system will be activated to start the skin rebuilding process.  Cellular activity will be stimulated to initiate building new skin tissue.  Next, new cells will be produced and grow.  This cellular fibroblast activity is what reinforces the skins foundational structure – a strong, healthy foundational structure is essential to a youthful, rejuvenated appearance.  Blood flow will increase to these new, healthy cells resulting in greater circulation.  The final step is known as remodeling.  At this point, stronger collagen and elastin will replace weaker collagen and elastin for long-term, cumulative results.  Wrinkles will diminish, scars, pigmentation, and discoloration will be diminished, skin will be smoother and tighter, and the overall condition of your skin will be improved.
Cosmetic and medical microneedling procedures are a safe, effective, and affordable alternative to invasive facial procedures.  We recommend incorporating them in any anti-aging and skin health treatment plan.  They should only be performed by a trained, certified, and experienced medical professional.  Our registered nurses have been properly trained and certified, have been performing these treatments for years, and are overseen by our Medical Director, a dual-Board certified facial plastic surgeon.
Celebrities love cosmetic and medical microneedling and in particular, the Maryland SkinPen® treatment.  This treatment has received heightened media attention and has been featured online, in testimonials, magazines, and in the news.  If you feel like your skin is looking aged and lacks a healthy glow, contact us to schedule your first microneedling appointment.  You will be overjoyed by the results!